Last Updated on October 25, 2022 by Eric
Winter is the best time to go sailfish fishing near Cape Canaveral, Florida. The Port will see many sailfish in its waters this December, and the fishing will only improve as we head into the heart of winter. If you're looking for an exciting offshore fishing adventure, take advantage of this winter season!
Winter Sailfish
As the calendar creeps closer to December, many Southerners begin to dread the colder temperatures on the way. But for Florida fishermen, the decreasing mercury is cause for celebration. That's because cooler weather signals the start of sailfish season. These acrobatic billfish migrate south along Florida's Atlantic coast as the water temperature drops, and they can be found in large numbers just offshore. The blustery winds often accompany cold fronts and create ideal sailfish fishing conditions. While most people see December as a time to hunker down indoors, Florida fishermen view it as an opportunity to head out onto the open sea in pursuit of these magnificent creatures.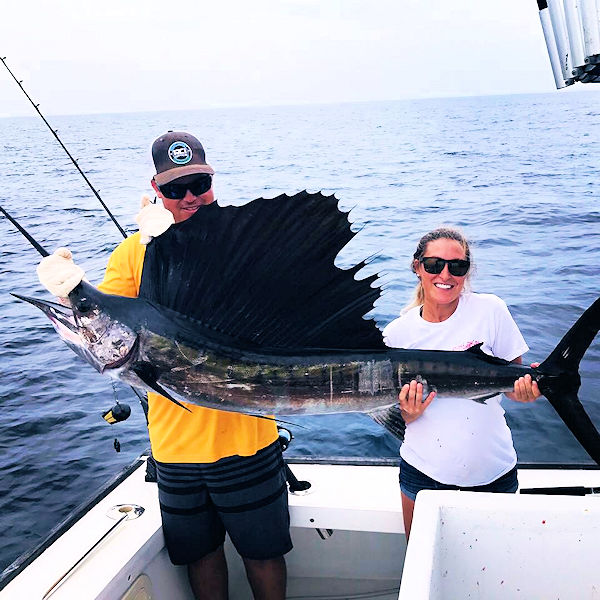 Cape Canaveral "Sailfishing"
Sailfish are the most sought-after gamefish in the entire world. People come from all around the world to Cape Canaveral during the winter months to try to capture one of these elusive species. The Sailfish is a very popular fish to catch because they put up a fantastic fight when hooked, and they are also beautiful fish. They are blue, and silver with long streamers called sails that extend from the back of their heads.
Sailfish can grow up to eleven feet long and weigh over two hundred pounds, but the average size caught is four to six feet long and sixty to ninety pounds. Sailfishing peaks for us in south Florida from December to March. You can almost set your watch by it; the sailfish flags start flying when the temperature drops. The coldest days are the days when you can catch record numbers of sailfish. Many variables are involved in sportfishing, but chilly weather is a big positive for catching sailfish, so if you're looking for a fun and challenging fishing experience, head on to Cape Canaveral during the winter months and try your hand at sailing!
Fish With Canaveral Kings
If you're looking for an exciting and challenging fishing experience, Winter is the perfect time to fish for sailfish, and Canaveral Kings fishing charters are the guys to take you. You don't have to be a seasoned pro to enjoy this trip – you have to want to spend 10 hours fishing!
On the open waters of Port Canaveral, the charter will provide you with all the gear you need and teach you how to reel in a big one properly. There's plenty of fun to be had out on the open waters, and the charter promises a safe, fun, and entertaining trip you'll be telling your friends about for years. So come on out and join Canaveral Kings in the deep blue; book your trip today!